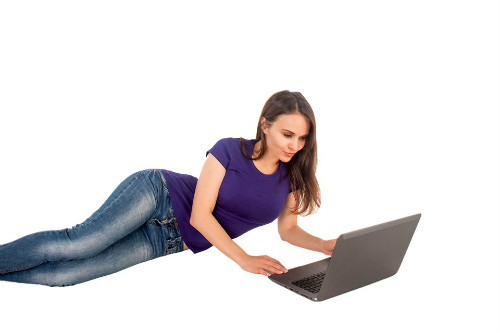 Have you ever felt like IKEA stole your time? You probably have. Going shopping there is easily comparable to Frodo's journey to Mount Doom. Well, it is good news then that IKEA's Internet sales have really picked up since 2012. In 2013 alone, there was a leap of 29% in web sales. IKEA also increased to around 80% the extent of its product range available online. At the moment IKEA online shopping is available in half of the countries where it has stores. Over the last financial year, 775 million store visits were registered across about 40 countries. At the same time, the company website generated 1.2 billion visits.
But why should it be better to skip the journey to the big blue box and try the IKEA online shopping experience instead? There are five main reasons we have identified. Before we start on that though, let's quickly debunk a couple of myths about ready-to-assemble furniture. If tasked with naming the key advantages of flat-pack furniture, people will often point out those two somewhere on their lists: quick and convenient purchase and ease of assembly.
Debunking Some Myths For Starters
Quick and convenient purchase is the last thing you would find in any IKEA store. This isn't actually an advantage or disadvantage of the furniture they sell there, it is what shopping at IKEA isn't – quick or convenient. It's no wonder so many couples experience relationship problems while shopping at IKEA.
Then comes the dreaded assembly. Well, the evaluation of just how difficult this process is, comes down to two things: who you are asking and the technical specifications of the piece that needs to be put together. You can imagine the difference in opinions. The fact is, many people find the mere thought of flat pack IKEA furniture assembly intimidating as hell.
With these two popular beliefs negated, we will now explore why you should choose IKEA online as opposed to its offline version.
#1. The IKEA Maze
We take it everyone has visited an IKEA store at least once. If not, you have still probably heard the stories of others telling how ridiculous the layout of the showroom and the market halls is. People do get lost inside. For real. Enter the IKEA maze at your own peril.
The layout is so messed up that they even thought about placing maps of the store in almost every department. However, those maps are not meant to help you find the way. They serve as an excuse for the company and its staff. The salespeople will often reference any lost shopper to the thing and then vanish in the blink of an eye. The customers are the last ones to realize they are in a maze, the IKEA maze. So much for your quick and convenient purchase.
Buy IKEA furniture online! Mark our words, it is going to be the next thing and is already shaping up as a trend. We discussed the numbers already, IKEA online sales are on a constant up, so why lag behind?
It is the company's concept to make people walk past as many of their products as possible before walking out the building, if they ever find the exit that is. This is done so to stimulate impulse purchases. Bear in mind they have around 11 000 different items, most of them displayed. Chances are you will like something you didn't initially have on your shopping list and end up buying it. Cunning Swedish marketing.
Moreover, products are arranged in such a way that you get to see what IKEA wants you to buy, not just any random article from their vast range. They have an internal document called The Top 100 which is basically a check-list of the one hundred top sellers based on inventory turnover. These are being placed closest to the main walkway. You will usually recognise them by how well presented and replenished they are. Although other products may sell massive quantities, the business generates loss by selling them and that's why they can be found further away from the main aisles.
If you are still not convinced it is a money trap by design, you should know that most IKEA stores, if not all, have this thing called The Opening Offer also known as "Open The Wallet". Why the name? Well, because that's what it is meant to do – make you spend. This could be the area immediately after the main entrance or where the customer restaurant meets the market hall. Here you will find stock that is very likely to make you start spending even before you know which way to go. Think candles, glasses, cushions, chair pads, pegs, etc.
Ultimately, you end up wasting time you could have invested in more meaningful activities than exploring a labyrinth, spending more money than you intended to and possibly getting frustrated while doing so. Doesn't the prospect of saving your poor soul going through all this look tempting now?

#2. The IKEA (Book Book) Catalogue
Those of you who are aware of last year's issue of the IKEA Catalogue know it was marketed as the Book Book. We'll get back to this in a moment. Fun fact about the IKEA Catalogue: it was first published in 1951. And to this day it is considered the main marketing tool of the company. The catalogue consumes more than 70% of the Swedish furniture retailer's annual marketing budget. It is printed in around 30 languages, comes in over 60 different versions and goes out to more than 200 million homes. These are staggering figures. You bet they take their catalogue very seriously at IKEA, but there's more interesting facts where that came from.
The number of Bibles printed for the same period of time is half that of IKEA's catalogue. No kidding. The hard copy's quality is so impressive that people tend to hold onto it for months, sometimes years, at a time. Its appeal owns to it being designed to not only be full of great content but also to be a worthy coffee table read. Its central role, however, is to shape people's consumer behaviour before they even went to the store. And here is how you can use it to your advantage. Yes, you can see all the products and get ideas for your home, read the specs of that flat pack sofa you want for the living room or inform yourself about the available add-ons to help you better organize your PAX wardrobe. It is all in the Book Book. So why not use it as a prop to order your furnishings online?
IKEA themselves are realising the potential in this direction. Perfect proof is their ingenious advert where the 2015 catalogue has been named the Book Book. It's a spoof of Apple's brand marketing strategy. And a very good one for that matter.
One can't help but smile at this advert. Anyway, there is some subliminal messaging going on there. The hint is that IKEA actually wants you to consider the option of buying from them through the web. The catalogue is very subtly being advertised as an instrument to "browse" the store while the focal point is the association with a tablet or other mobile device. Then there is only one step left until conversion. This is something IKEA will eventually start to pursue more openly in the near future until it becomes an all-out company effort.
There's been a lot of fuss recently about the heavy use of CGI in the making of the IKEA catalogue and how three quarters of the stuff you see in it is not real. While it is a fair accusation that part of the products depicted in the catalogue are 3D renders, it doesn't mean they don't represent the real products in true fashion. This is done so to accommodate for the awesome augmented reality application. And we dig that big time.
#3. The Augmented Reality App
Another weapon in the company's arsenal to lure customers to try the IKEA online store is the augmented reality application launched back in 2013. The app is as cool today as it was then. The application lets you place virtual IKEA furniture in your home and see how it looks and fits in the space you have. To unlock this feature you need to scan selected pages in the printed catalogue with the IKEA application (available for iOS and Android) or by browsing the pages in the digital catalogue on your smartphone or tablet. Then place the hard copy of the catalogue where you want the furniture to appear in your room, choose a product from a selection of the IKEA range and watch the magic happen.
How fun is that? Way better than strolling in the labyrinthine stores looking for the one thing you can't find, right? By implementing the latest technologies, IKEA clearly states its intent to make people aware of its products and small spaces living solutions via the Internet, without the need to physically visit a store. Thus IKEA not simply expands its market but ultimately encourages you to buy your flat pack furniture online.
You can download the apps here.
#4. The Supplementary IKEA Services
IKEA online is superior to its offline version because of the in-house services like IKEA Picking & Delivery, IKEA Delivery and IKEA Assembly. Although not solely for that purpose, these have all been designed to make shopping from home possible.
Let's get back to the quick and convenient purchase myth we debunked earlier. Such thing may not be achievable in-store but it certainly is possible online. Shopping on the Internet is the epitome of quick, while the supplementary services make everything that much more convenient.
There are one or two drawbacks though. Because IKEA is such a huge business, it is likely that they won't be able to deliver your furnishings the next day, regardless of any bold statements you will hear or read. Experience speaking! Next week sounds more plausible. The outsourced delivery service is inflexible as anything.
The price IKEA charges for assembling flat packs could be another deterrent for online shoppers. But, because IKEA is such a huge business, there are many other smaller operations that offer the same services as the home furnishing retailer, usually at a more competitive price and with way more care for the customer. These are more or less tailor-made services of firms that have no affiliation to IKEA whatsoever but who will cater to your needs just as professionally.
Flat Pack Mates' IKEA furniture assembly prices are affordable and booking your flat pack assembly service is just a few mouse-clicks or a phone call away. Combine that with furniture collection & delivery for a chance to strike a real bargain or get a discount for future bookings.
Turns out the whole thing can indeed be carefree after all. And the sweet stuff doesn't stop here. We saved the best for last.
#5. The Massive Amount Of Time You Would Save
IKEA online sales are good for you as they are good for the furnishing giant's business. IKEA is only going to benefit if it manages to shake off a portion of the immense visitor flow to its stores, particularly in major cities like London. Of course, this should not and never will be at the expense of losing ground in terms of revenue and turnover. That's exactly why the company is becoming more heavily reliant on its online sales year after year. IKEA is trying to maintain customer satisfaction and to stimulate online sales at the same time. If you ever wondered how killing two birds with one stone looks in the world of marketing – you are welcome.
At the end of the day it all comes down to the time you can save by sticking to IKEA online shopping. We now have every necessary tool at our disposal to make informed low-risk purchases through the web. What could take many hours now requires mere minutes. Then again, prearranged delivery and assembly services make for stress-free experience and take another allegedly time-consuming task off your hands – assembling the flat pack furniture.
Eventually, the end result of your IKEA online shopping is that you economize time – the world's most expensive commodity nowadays. What's not to like? Give it a go!