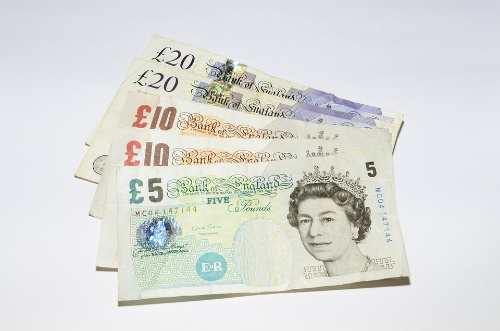 If you see yourself shopping at IKEA it means you are already saving money. It's a well-known fact that the Swedish home furnishing retailer is one idea, to say the least, more affordable than the likes of B&Q, Homebase or John Lewis for example. Yet, we could save a lot more if we know how to take advantage of every little option IKEA has willingly or unwillingly presented us with. What we need in order to exploit this is a little inside knowledge of how the company functions.
Make Good Use of Your IKEA Family Card
Ah, the IKEA Family Card. If you still haven't got one, waste no more time and fix this. It's absolutely free and there are no points to collect, just great benefits to enjoy. You can sign up for membership either online or by going to your local store. Once you have your membership card, swipe it every time you go to IKEA to stay on top of all the latest offers.
As an IKEA Family member you have access to a wide range of member benefits. And most of them save you money. Like the free cup of coffee every visiting IKEA Family member is entitled to Monday through Friday. Plus discounts on a number of delicious dished at the customer restaurant. There is also the special offers on selected IKEA products. And much more. That's why it's definitely worth having an IKEA Family Card.
Go to IKEA Alone
This might sound really awkward, but the fact of the matter is, if you go with your partner you will spend more time in the shop. You will discuss and compare different products unless you have a specific list of items you need for your home. You will them end up buying extra items you don't necessarily require and this is not how to save money at IKEA.
Spending more time at IKEA inevitably equals spending more money there. That's why they have all these arrows to point you to different themed areas. That's just how it is. By going alone, you increase your chances of a shorter stay and you won't  risk damaging your relationship. Yes, many couples start arguing at IKEA, but there's a way to survive a trip.
Use Your Contacts Within IKEA
What this means is pulling a string or two provided you have a friend who works at an IKEA store near you. We'll explain. All IKEA co-workers are entitled to a 15% staff discount on anything they wish to buy. Furthermore, there is an in-house rule that the staff can use this discount to help out friends if their purchase is up to £100 worth. Here is how you can save 15 quid by relying on a friend from within the IKEA ranks.
Truth be told, this rule is so easy to abuse that people in the know sometimes do it without any tact. Be clever about it because otherwise, you can get your friend in trouble.
Visit Bargain Corner
Bargain Corner is the place where you'll find ex-display units, products with slight transport damage or items with insignificant manufacturing defects. These are usually discounted up to 50% off the original retail price. A couple of things to consider before buying from the Bargain Corner:
Establish how much damage there is. Sometimes there could be a number of the same item in different condition but at the same price. This is IKEA being a bit cheeky.
Be mindful of the original retail price of an item you have found at the Bargain Corner. In rare occasions, the discount may not be worth it.
All things considered, Bargain Corner has the potential to save you a hefty amount of money.

Combine IKEA Collection and Delivery with Assembly Service
This one is not so obvious in the way it saves you money but it truly does. The trick here is to avoid booking these services with IKEA's subcontractors. Their business operation is flawed by default. Think about it for a second, would IKEA have given up on that aspect of the trade if it was really important to them? So, instead you are better off shopping around for independent companies specialised in the same field of work. There are plenty such firms in the major cities and companies for furniture delivery in London.
Before you make up your mind on which furniture delivery and assembly company to choose, it is only natural to compare their fares. This is best done by asking for a free quote. When doing this, inquire about any applicable discounts if you book furniture collection and delivery in combination with IKEA furniture assembly. In most occasions, they'll be glad to comply and award you with a discount. And that's how you save money.
Another positive side to this is that you'll save a lot of your precious time. And what is more valuable these days than time?
Get a Meal at the IKEA Restaurant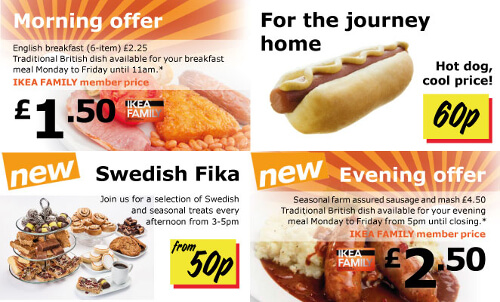 What is so great about IKEA is that it has become something much more than just a chain of furniture stores. Worldwide people visit the big blue boxes specifically to have a meal or to spend a fun day with the kids when the weather doesn't allow for that in the open. Well, this isn't for no reason.
The IKEA Restaurant has become a recognisable trademark in its own right, all flat pack furniture aside. Not only is the food good but it's also amazing value for money when compared to other eating establishments. Even more so when you use your IKEA Family card we discussed earlier.
There is also free organic baby food available for any purchase in the restaurant above £2.75. How well thought out and what a great way to save money.