Delivery and Assembly Service of IKEA Furniture and Home Items
Flat Pack Mates is a professional London furniture assembly company which works with a wide variety of furniture chain stores, including IKEA. The company technicians have many years of industry experience with delivery of IKEA flat pack furniture and can safely pick up flat packs from IKEA, London and deliver them to your home or office in a stress-free manner. Besides collection and delivery of IKEA items, we also do installation. It is a service which is often requested by our clients who either lack enough time or the proper tools to do it themselves. Or by commercial clients that need large numbers of office furniture delivered and installed.
Flat Pack Mates Does Delivery Services of IKEA Furniture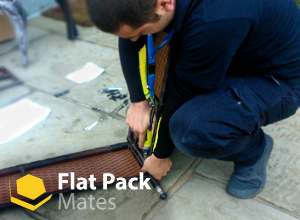 We started out with home delivery services of IKEA items in London, and later added assembly as well. Now we work with commercial and residential clients. Homeowners and letting agents work with us, office managers seek our help when office furniture delivery is needed. No matter which service our London clients book, they always get the same level of professional treatment. So, which one do you require?
Collection and Delivery Service of IKEA furniture in London – How does it work? It's so easy! All you need to do is:

Go to the official IKEA website and buy the pieces you want.
Send us the copies of the invoice and order confirmation.
Make sure your desired items are available in the nearest store.
You'll be given an estimation time for delivery.
A team will pick up the furniture from the store and deliver them to your address.
*Remember we only deliver furniture items. Other small household items are your responsibility.
After that, the Flat Pack Mates technicians will go to the nearest IKEA in your London area, pick up and deliver the furniture to your home. Once inside the trusty vans, your flat pack furniture will be carefully secured with straps and safety blankets.
We usually collect items from IKEA in London in the mornings and do delivery in the afternoon, so you can always expect to have your flat pack furniture at a convenient time. But wait, all your furniture is in boxes, are you the one who's going to put it together? If your answer is negative, then you should turn to professional technicians for help.
Payment Process for Furniture Delivery
Our collection and delivery services are paid after the completion of the service. Our operators will give you more details on the process. See approximate prices.
Furniture Delivery + Assembly Service of IKEA Items
This service usually goes hand in hand with our IKEA furniture delivery in London areas, but can also be booked separately. No special tools or materials are required on your behalf when you hire our service for furniture assembly of IKEA items. The Flat Pack Mates always bring their own tools when performing furniture courier and installation service.
It is recommended that you keep your instructions as this would help the technicians to do the job faster. Either way, we've got you covered.
All we require is that you provide us with free space to put together your dresser, shelves, beds or whatever it is that you have bought. We specialise in the construction of Ikea furniture as it is what our customers require the most. We can even put together the almighty PAX wardrobe, known to be one of the most difficult IKEA items for assembly.
Office Furniture Delivery by Flat Pack Mates Professionals
The technicians are remarkable in their work. They are quick, handy and experienced. You can entrust them with the construction of your new IKEA desk, and you can rely on them for office furniture delivery and installation. No big job is impossible for them. Delivering office furniture is what they do best and you can count on safe transportation and timely service.
Simply call us for a free quote and learn how easy and convenient it is to furnish your office. The specialists can pick up and deliver your office flat-pack furniture, and you can even book an assembly service! We can take all of the work off your shoulders.
Contact Flat Pack Mates and Book Furniture Delivery Service in London
Flat Pack Mates has all the tools, experience, vehicles and manpower to make sure your furniture is safely transported from the store to your home. A team of technicians will collect, deliver, unpack and build your items efficiently and at reasonable price. Leave the task to the professionals. All you need to do is contact our London call centre on 020 3404 4600 and provide us with the needed details such as your confirmation order and your address.
For a flat pack furniture delivery service in London feel free to contact us at any time. You can use our online form and receive a free quote or you can call our friendly assistants to ask your questions and book a service.