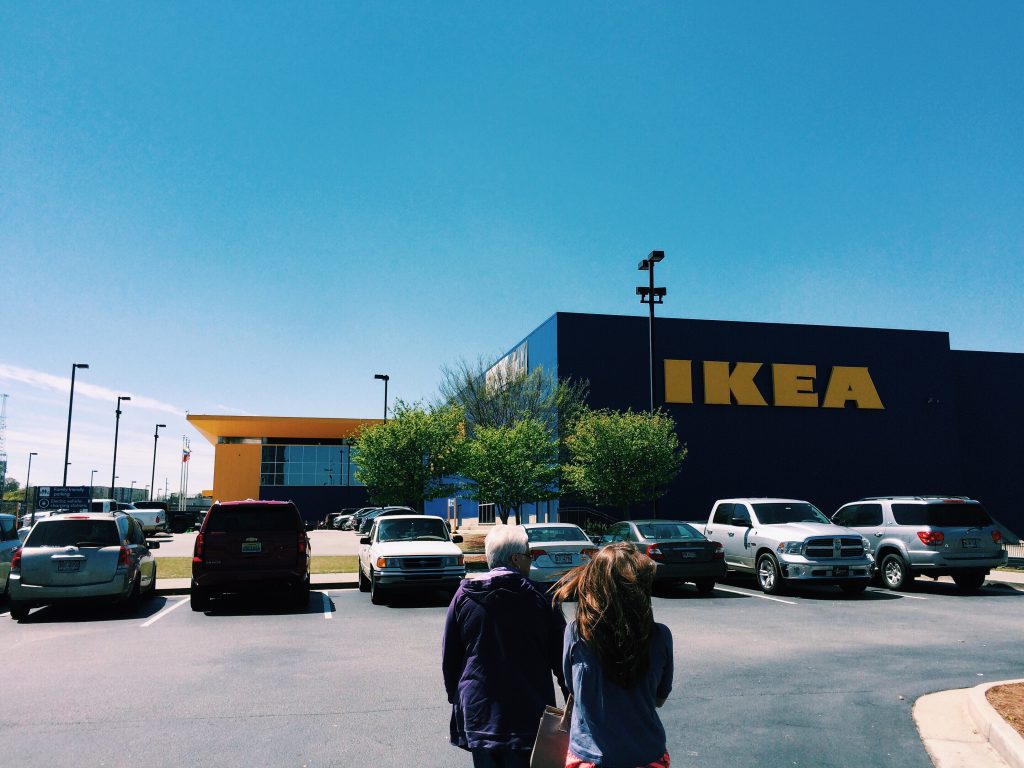 The Swedish multinational group has become the trademark for the ready-to-assemble industry and an irreplaceable leader in the business worldwide. There aren't many brands and especially flat pack furniture companies in the world, that managed to revolutionize a niche the way IKEA furniture assembly has. The company is famous not only with its history, the grand scale of production and distribution, innovative marketing, but also with its commitment to satisfy its customers' needs аnd allure them back into its enormous stores. That's why we have gathered some of the most peculiar facts you could find out there:
27 Interesting Facts About Ikea:
#1

A FLAT PACK TOWN?

Most London IKEA's visitors have to plan to spare at least one or two whole days when shopping for new home furnishing. People often refer to the Swedish flat-pack furniture stores as if each one is a little town of its own.

Now IKEA is actually building a real small town in London! The project – a new form of flat pack assembly, is titled Strand East and offers 480 000 square of offices, it's own infrastructure, restaurants, hotels and even schools! It should offer housing to 6,000 Londoners.

If this innovative project is successful, IKEA has plans and is already looking to develop new district in other countries. The company is already looking for similar sites in Hamburg, Germany.

 #2

IKEA BEDS, BABIES AND THE UK

IKEA furniture assembly and RTA beds are so popular in the UK, that according to numbers – more than 20% of UK citizens are conceived on ready-to-assembly Swedish bed units! Let's talk about facts.

Way to go IKEA!

#3

MOXY – THE HOTEL CHAIN

The giant furniture company partnered with the American multinational hospitality company Marriott International in 2013 to create Moxy Hotels across Europe. It's the Marriott alternative of Airbnb for the millennials, which offers eclectic style, fun, games, parties dressed in style and at affordable prices.

"We know that our guests come to play. For some of you, that means a drink or five at Bar Moxy (hello!). For others, it's letting your hair down so you're re-energized for the next face-off with your boss. Whatever the reason for your stay, Moxy is made so you can play." – Moxy – Hotels.

There are three opened hotels in the United Kingdom already. In London, Heathrow Airport and Stratford. In the middle of 2019 two are planned to open in Southhampton and York. Bristol Moxy Hotel will open in early 2020.

 #4

FLAT PACKS, MEATBALLS AND VEGGIE BALLS

Beside ready-to-assemble furniture, the giant sells more than 150 million meatballs each year and that's among the facts about IKEA worthy of attention. Because of the huge amount of meatball fans, in 2015 IKEA announced that their famous meatballs will soon be accompanied by a second line of veggie balls. Have in mind that the first ever restaurant within an IKEA shop was opened in the distant 1960.

Ever since October 1st 1987 and the first ever store in Warrington, United Kingdom, IKEA has sold more than 12 million meatballs and more than 1.5 million hot dogs for the last 25 years. At first plans were to open in close proximity to London, but Warrington has been chosen in order to boost the local economic development.

 #5

FURNISHINGS, WIND TURBINES AND SOLAR ENERGY

Did you know that Ingvar's company has a number of wind turbine parks all over the world?

Poland, Texas and Romania are just a few to name. The company strategy is to power it's facilities purely out of renewable energy sources. By 2020 all of its furniture stores should be "off the grid", just a historical fact.

Beside its wind-powered capacities, IKEA owns nearly a million solar panels!

 #6

FLAT PACKS BECOME EVEN CHEAPER RATHER THEN EXPENSIVE

It may sound hard to believe, but the knockdown furniture giant manages to lower its home furnishing products prices by 2% on a yearly basis! This is why the niche for IKEA furniture assembly becomes ever more affordable and therefore people spend more.





#7

IKEA'S FOUNDER IS A MODEST PERSON

Ingvar Feodor Kamprad, born 30 March 1926 is not the average member of the worlds richest club you would expect him to be. He lives in a modest home, most likely flat pack assembled, owns a middle-class car and always books inexpensive hotels.

Once he was denied entry at the Businessman of the year awards, because of his choice to arrive via bus, rather than an expensive vehicle like the rest of the guests.

 #8

"D*CK", "P*CK", "BUGGA" AND IKEA FURNITURE NAMING

Did you know that all sofa models are named after Swedish towns and the bed units carry names of specific Norway locations? That is because Kamprad is known to be dyslexic. All garden furnishing gets their names from Swedish islands, while curtains have traditional Swedish female names. Some flat pack assembly products were almost named as "D*ck", "P*ck" and "Bugga".

Upholstered furniture

: Such as coffee tables, rattan furniture, bookshelves, media storage, doorknobs carry the names of Swedish locations.

Beds, wardrobes and hall furniture

: Norwegian place names

Dining tables and chairs

: Finnish places names

Bookcase ranges

: Occupations

Bathroom articles

: Scandinavian lakes, rivers and bays

Kitchens

: Grammatical terms, sometimes also other names

Chairs, desks

: Men's names

Fabrics, curtains

: Women's names

Garden furniture

: Swedish islands

Carpets

: Danish place names

Lighting

: terms from music, chemistry, meteorology, measures, weights, seasons, months, days, boats, nautical terms

Bedlinen, bed covers, pillows or cushions

: Flowers, plants, precious stones

Children's items

: Mammals, birds, adjectives

Curtain accessories

: Mathematical and geometrical terms

Kitchen utensils

: Foreign words, spices, herbs, fish, mushrooms, fruits or berries, functional descriptions

Boxes, wall decoration, pictures and frames, clocks

: Colloquial expressions, also Swedish place names

Source: IKEA Wikipedia

 #9

WHAT DOES IKEA STAND FOR?

Beside affordable home flat pack furniture? The I & K stand for Ingvar Kamprad's initials, while the E & A represent where he grew up along with his hometown – Agunnaryd and Elmatryd.

 #10

MANUFACTURING

One of the most peculiar facts about IKEA is the fact that despite common practice, more than 60% of IKEA's production is manufactured in Europe. Most people assume that China would be the main source of production – well it's not.


 #11

IKEA CUSTOMER FLOW

If we look at the numbers, in 2017 936 million people have visited  IKEA stores. That is almost ten times the UK population! If we consider all the facts about IKEA – the number of people who visit the home furnishing stores are only about to grow. For the same year, IKEA.com reached 2.3 billion visits globally.

 #12

WOOD AND FLAT PACKS

IKEA is among the largest consumers of wood in the world. According to official info, the amount of raw material used for IKEA furniture is about 1% of Earth's wood supply. Imagine how much ready-to-assemble furniture we buy on a yearly basis… More than 60% of all sold products come from forest materials.


#13

MORE CATALOGUE COPIES THAN THE BIBLE

According to official statements, each year IKEA  is printing more than 208 million copies of its home furnishing catalogue. They ate distributed within 49 countries and is translated in more than 30 languages. This means that the catalogues are printed more times than Тhe Holly Bible itself. The fact is that since 2004 it has been considered as the main marketing tool and it consumes up to 70% of the marketing budget. 300 pages, 12000+ products and more than 285 people are involved in its production.

Among the interesting facts about IKEA is that the first computer-generated image used for the catalogue was in 2005 and now we have more than 75% of all furniture being generated virtually.

 #14

HOMOSEXUAL COUPLE SHOWN IN THE FIRST IKEA COMMERCIAL IN THE USA

The commercial featured a middle-aged male couple shopping for dining room table togetehr. Before it was pulled off air the spot ran only once in New York City and Washington, D.C. after 9:30 pm. The reason – numerous bomb threats to IKEA stores and calls for boycott. Many viewers assumed the commercial was meant to target gay buyers, but the campaign was about "non-traditional" families, including a mixed race couple and a single mom with an adopted child.

The commercial's director told the Canadian Broadcasting Corp. that it was not important to be the first company to show a gay couple together and "Actually I was surprised when we first started looking at this" that no one had done it before.

 #15

HOW MANY ITEMS DOES IKEA HAVE?

Considering the fact that IKEA consumes so many resources it is not that surprising that they offer more than 12,000 items, isn't it?

 #16

BILLY THE BOOKCASE

That's the most successful piece of furniture IKEA has on its catalogue. More than 500 000 Billy bookcases are sold for a single month in 2012! According to Buzzfeed, one Billy bookcase piece of furniture is being sold every 10 seconds and an IKEA furniture assembly company is booked every half an hour.

 #17

LÖVET THE FIRST PRODUCT

LÖVET was the first flat pack unit in IKEA's catalogue back in 1956. Rumor has it that soon Ingvar's home furnishing superstore is about to restart its first flat pack item!

It all started when somebody had to take off all legs of a LÖVET table in order to fit the whole piece of furniture into a car. Now ain't that familiar. When you think about it a DIY furniture hack gave birth to the whole IKEA concept of furniture being sold disassembled.

 #18

IKEA AROUND THE WORLD

More than 80% of all units, items and inventory in general, stay the same in all IKEA home furnishing shops around the world.  At the end of August 2017 there were 403 IKEA stores in 49 countries. This is one of the most impressive facts about IKEA. The flat-pack furniture company expands rapidly!

 #19

MORE THAN 9,000 OLYMPIC POOLS OF VOLUME

According to statistics, around 800 million cubic feet of items and units are sold each year. With this much products, IKEA furniture delivery is enough to cover more than 9,000 Olympic-sized pools! Can you imagine how much space and furnishing is that?

 #20

IKEA USED FORCED LABOR

At the moment there are more than 150 000 employees, all taking care of the flat pack furniture, we love so much! It's a fact that the furniture company has made an official statement along with an apology for using prisoners in Cuba in the 1980's. Surely it is among the facts about IKEA, the company is not proud of.

Another rather disgraceful fact from IKEA's past is the use of political prisoners in East Germany during the 1980's. This was the reason for IKEA to keep its production costs down during the period.

#21

IKEA, WOMEN AND SAUDI ARABIA

IKEA "regrets" removing all women from the Saudi Arabia flat pack furniture catalogue in 2012 and has made an official apology… Some facts about IKEA raise questions. The company has officially stated that they do regret this decision, but the fact is a fact. "We are now reviewing our routines to safeguard a correct content presentation from a values point-of-view in the different versions of the Ikea catalogue worldwide," IKEA representative stated.

 #22

THE LARGEST IKEA

Here is top 5 the chart – largest shop IKEA has:

Gwangmyeong, Seoul Capital Area, South Korea: 640,000 sq ft (59,000 m2 )
Stockholm Kungens Kurva, Sweden: 594,000 sq ft (55,200 m2)
Shanghai Baoshan, China:  592,360 sq ft (55,032 m2)
Shanghai Pudong Beicai, China: 532,000 sq ft (49,400 m2)
Wuxi, China:  528,690 sq ft (49,117 m2)

 #23

IKEA'S PLAYGROUND

There is a children's playground in every store!

When on the hunt for new flat pack furniture parents could drop off their kids at the Småland playground and pick them up after furniture shopping is done. IKEA has it all figured out.

Every parent is given a pager or they are called over the in-store public address system in case they need to return immediately to check on their child.

 #24

FLAT PACK HOMES AND HOUSES?

The Swedish furniture company giant is way more broad-minded than flat pack furniture only. In an attempt to aid first time home buyers, IKEA has launched a product called BoKlok – flat pack homes . The concept is to build blocks of flats an terraced homes in an affordable price range.


 #25

TURNOVER

The facts about IKEA are clear and precise. Since 2001 revenue has almost tripled. For a single year, IKEA has sold more than two and a half million dowels, as well as 50 million allen keys! Can you imagine how much ready-to-assemble furniture unites they had to sell? For a single year, more than 60 million hinges are sold. In 2011 alone, IKEA had a 7% overall turnover increase. And in 2017 "the IKEA retail business generated 38.3 billion Euro in sales".


#26

IKEA SOCIAL INITIATIVE AND CHARITY

IKEA Social Initiative is the largest corporate social oriented program of the Swedish home furnishing giant. The company supports a number of donation and charity campaigns. Some of the largest partners of IKEA Social Initiative are organizations like UNICEF, Save the Children and others. According to UNICEF, in 2008 IKEA Social Initiative's commitments were more than 190 million dollars.

#27

 "SIZE MATTERS"
AND THAT'S A FACT

In its early years in America, the IKEA company had difficulties adapting to local culture and habits. Europe's compact ways of life did not layer up with America's "make it big". Rumors have it that back in the 80's people bought vases, thinking those were water glasses. Other say that tables back then could not host a whole turkey. The head of IKEA US gave all Europe designers t-shirts saying "Size matters". The prank did its job and IKEA finally got on the right path with its US customers.

If you have enjoyed this article, please do comment and share with us how you feel about our IKEA flat pack assembly, disassembly, pick up and delivery services.