What is Flat Pack Furniture?
Flat packs, also known as ready-to-assemble furniture, known-down furniture, or self-assembly furniture are incredibly popular and prefered furniture because of their affordability.
This type of furniture is produced in flat parts and are assembled when purchased without the need of special tools (in most cases). They are packed and delivered in separate flat-packed boxes and go with the necessary nuts and bolts for their assembly, and with an instruction manual. Depending on the piece of furniture, they can have 5 components to assemble, or over 50.
One of the most known flat pack retailers is IKEA, with stores in over 25 countries.
What is Flat Pack Furniture Made From?
The materials used for the making of flat packs is either solid wood, medium-density fibreboard, or chipboard. MDF is the product of the residuals of softwood and hardwood mixed with wax and combined to form a panel and is stronger than chipboard. Chipboard is made from wood chippings, sawdust, wood shavings or particles, and are bound together into a board.
The chipboard material is cheaper, but it is also quite stable. The only disadvantage of it is that it is more susceptible to water damage. Solid wood can crack due to time or environment conditions, which is something that cannot happen to chipboard.
MDF prices can vary as well, but if it is of a high quality, then it is much stronger than chipboard. It is easy to shape and work with, unlike solid wood. It is often used in furniture such as desks, and cabinets.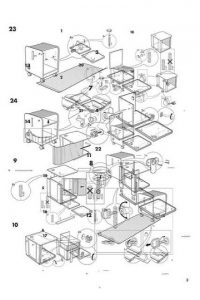 Advantages of Flat Pack Furniture
>> One of the most famous advantages of RTA furniture – affordable prices. They are cheaper because their mass production is easier and cheaper as well. Also, they are said to be cheaper because they compensate for their low durability, but if properly maintained they can be very durable.
>> They are easy to ship, disassemble and put together. Companies do not spend tons of money on shipping costs and transportation because customers can pick their furniture themselves and build them in their homes.
>> Flat packs can be customised – there are many sites and hacks for improving, changing the design or style of flat packs. Thus, people can make their cheap flat packs look much more expensive and luxurious for little money.
>> They are produced by machines, which cuts the company's costs a lot. They do not pay individuals for their labour to make the furniture.
>> This type of furniture is easily packed and moved from one place to another. If you ever move house, you can dismantle your furniture, put them in their flat boxes and easily transport and reassemble them.
Disadvantages of Flat Pack Furniture
>> The designs are simple and limited.
>> You have to read the complicated instructions and build the furniture on your own. Or you can pay a company to assemble the furniture for you.
>> Disassembly and reassembly of the same furniture many times may decrease its durability and cause damages.
>> Complicated and hard to understand instructions.
History of Flat Pack Furniture
When Was Flat Pack Furniture Invented?
The idea of flat pack furniture came in the 1950s. Until then all furniture was delivered already made and sometimes it took a long time to get your furniture, if they had to be made specifically for you. You could order furniture from a carpenter or a shop. All furniture back then were very heavy, made from solid wood, often handmade and expensive and had elements that were hard to execute.
Who Invented Flat Pack Furniture?
The idea of furniture that can be made in parts and assembled came to a man who worked at IKEA in the 1950s. His name was Gillis Lundgren, he was a furniture designer and he was one of the very first employees at the now worldwide known brand IKEA. He found himself unable to load a large table onto a small car of a client who had purchased it. Then the idea occurred that if he could remove the table's legs it would be easy to load it into the car. And this is when the idea of flat pack furniture was born.
How Much is Spent on Flat Pack Furniture?
It doesn't cost as much as producing bespoke furniture and that is due to a number of reasons. The cheap cost of mass producing flat packs is the result of a few conditions:
Cheap and easy shipping. The costs for shipping flat pack furniture is not big because of the way they are flat packed and stored, it is easier to move a lot of pieces of furniture in just one shipping. Thus, paying the amount and shipping more RTA furniture. Another way the cost for shipping and delivery is cut, is because many people can load the boxes with the flat packs in their own cars and the manufacturers do not spend their resources on delivery.
The materials of RTA furniture are purchased in large quantities and the retailers get discounts and pay less for more materials.
Design and styles. Unlike bespoke furniture, RTAs have limited styles and designs and are easily mass produced. There is no effort or time spent on designing the furniture.
How to Assemble Flat Pack Furniture?
If you decide to deal with the assembly of your furniture on your own, there are a few basic and necessary things you should to do prepare the area, the materials, and yourself.
*Advice: Build the furniture in the room it is going to stay in.
*Advice 2: There are some IKEA furniture that are very hard to assemble, you should ask someone to help you.
Putting together flat pack furniture:
Use the floor to lay down all components of the furniture. Use the cardboard packaging, a bedsheet, or something else to cover your floor, to protect the floor and your new furniture.
See the list of parts and check if you have everything. Get bowls/cups/plastic containers, or anything else to separate the different types of screws, nuts and bolts. There might be some missing that you can easily replace, or there can be major components or parts missing that you will need to call the store to get them. There might be some that differ in size and it is very important to notice that in time and to follow the manual carefully because if you misplace them and assemble the furniture with the wrong bolts and screws you can damage the furniture.
Read the flat pack assembly instructions carefully to make sure you understand them.
See what tools you will need and get them near you – a screwdriver, a hammer, a star key.
You better do all screwing and tightening by hand because it will be very easy to keep it under control and not damage the wood nor the bolt.
But most important of all, take your time, do it slowly and follow the instruction strictly!
Possible list of tools you might need:
Screwdrivers
Scissors
Hammer
Knife
Check our guide on flat pack kitchens to learn more on assembling larger RTA sets.
Can You Paint Flat Pack Furniture?
There are many Do's and Don'ts for flat pack furniture. Painting the furniture assembled or disassembled? Well, that depends on you. Keep in mind that it can be very hard to take a furniture apart and put it back together without damaging it a little bit.
How to Paint Flat Pack Furniture?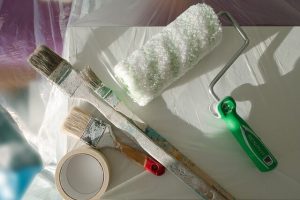 Sanding the furniture if an important and necessary step that you mustn't skip. The different furniture has a different coating, all of which should be sanded.
Clean the dust and tiny particles from the piece when you are done sanding it. If you want to do a proper job painting it, the surface should be clean.
Apply the primer which is the base for the paint. Applying it properly will help you paint it easier and the paint will not crack but will run smoothly. You might need to apply it twice to make sure it is properly done. Or if you will using a dark coloured paint, you might want several layers of primer.
Apply the paint with the tool of your choice – roll, brush, spray. After the paint is dried you can sand the furniture again to remove bumps and excess dried paint.
Depending on the end result you want your furniture to have, choose the type of paint that will give it to you. Ask at the store about the right kind of paint. Read the labels carefully and do not rush the painting.Sealing the paint can be done with just a top coat of sealer to give it the finishing touches. For better results, you can sand the furniture after the first layer and then apply another one, to make sure everything is even and smooth.
How to choose the right sealant?
There are two types of sealants polyurethane and polycrylic. Both of which come in two varieties – with a satin finish and with a glossy finish.
Polyurethane sealants can be water-based or oil-based. Oil-based are more durable but over time it gets a yellowish tint. They add a nice and shiny coat to the paint and are scratch-proof and durable. Water-based sealants (including polycrylics) are less expensive, and easy to apply and they dry faster.
Polycrylic sealants dry faster, while polyurethane oil-based sealants take up to twelve hours to dry. You choose which one suits you.
What you will need to paint your furniture:
Paint
Fine grit sandpaper
Primer and finish
Painting supplies – roller, sprayer, brush
A tarp or another piece of fabric to lay under the furniture
See more reasons why you should get flat pack furniture for your home.
Resources:
https://blog.handkrafted.com/factors-influencing-the-cost-of-custom-furniture/
https://en.wikipedia.org/wiki/Ready-to-assemble_furniture
https://www.davesdiytips.com/assembling-flat-pack-furniture/
https://www.hirerush.com/blog/furniture-assembly-tips/