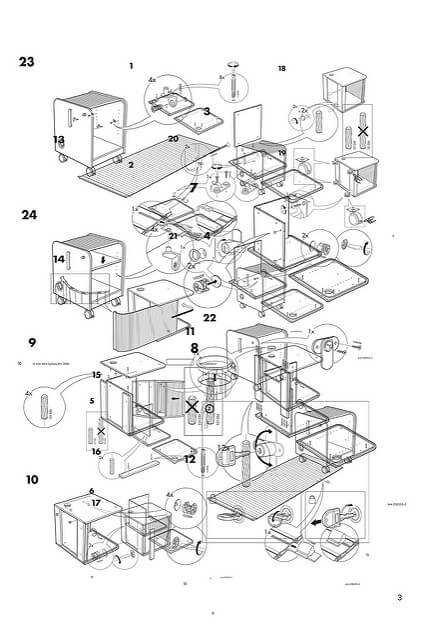 IKEA is best known for their cheap flat pack furniture, huge shops where one can easily get lost and Swedish meatballs. However, the Swedish furniture manufacturing company furniture also has a dark side: it's really hard to assemble. Whatever the reasons might be, lack of handyman skills, unclear instructions or something else, the fact remains: regular people find IKEA furniture hard to assemble.
So, with that in mind, what do you say we make a list of hardest to assemble pieces of Ikea furniture. The information you will read here is kindly provided by our loyal clients and various online sources. Without further adieu, let's get started with…
#6 Triple Track Rail
Some of our London clients pointed out the KVARTAL triple track rail as the hardest IKEA item they've assembled. It's basically a track rail 140 cm in length, so how hard can it be?
The key challenge they pointed out was the mounting process. It's messy and you need a drill machine with the right size drill bit. While most men may possess handyman kits and would laugh at this fact, ladies would tell you otherwise. The unit can be cut in size with a hacksaw if necessary, which again causes more problems. Consider it difficult to assemble or not, the KVARTAL Triple track rail has earned last place on this list.
#5 SVÄRTA Bunk Bed Frame
Bunk beds are great when there's a limited amount of space. They're also great for teaching your kids the value of sharing. However, when you are the one assembling the SVÄRTA Bunk bed frame, you kinda wish somebody else would do it.
While these bunk beds are not composed of too many parts, it is still really easy to get mixed up. All the frame parts look alike, that's the main problem most customers point out when asked about the hardest IKEA item they've ever assembled. You can easily tighten a screw and then realise that screw goes into another place. Unfortunately it's impossible to frame your kids into believing this is a LEGO kit for grown-ups. They know better than that, so you might as well not expect them to assemble it by themselves.
#4 STUVA Loft Bed Combo
If you though a double decker bed was one of the hardest IKEA furniture pieces to assemble, you obviously had never seen STUVA Loft bed combo. Again, designed for you children, this masterpiece has a bed, desk, wardrobe and open shelf unit all into one. Of course that means the piece is very tall, 193cm to be exact. The minimum ceiling height of your children's room should be at least 240 cm. The wardrobe can be accessed from both sides if you chose to assemble the desk perpendicular to the bed. That in itself could become a problem as the unit is already hard enough to assemble. The good news is there's anti-slip grooves on the ladder handles and a cable outlet out the back. Maybe it's worth hiring professional London IKEA assemblers for this job.

#3 BESTÅ TV Wall Unit
You like watching football in style with your friends? Style in this case means the beautiful BESTÅ TV Wall unit. A flat pack furniture unit which will no doubt give you living room a great finishing look, but at the cost of many headaches. Why? Well, due to its size. The Besta tv unit must be fixed to the wall with the enclosed wall fastener. What makes it even harder to assemble is the fact you need a different fixing device depending on the walls you have at home. You probably know these devices are sold separately right? No? Well, the good news is the TV bench can take a maximum load of 50 kg on the top. So, you can safely buy any telly you want. By the way, interior accessories which would help you better organise your collection of dvd-s are sold separately. At least nothing can go wrong there…
#2 BILLY / OXBERG Bookcase
Probably the best and worst part of this piece of flat pack furniture is its adjustable shelves. For some reasons most clients have trouble setting them up properly without having an extra bolt here and there. Another reason why the BILLY / OXBERG Bookcase is one of IKEA's harders to assemble items is the fact it requires fixing on the wall. And you already know, fixing devices are sold separately, so there's no need to remind you. How terribly inconvenient does this flat pack furniture become when you add its dimensions to the table: width: 200 cm
depth: 28 cm, and height: 237 cm. When you have a huge collection of Stephen King novels, you want only the best shelves for them, so deal with it.
#1 PAX Wardrobe
Surprising or not, most people pointed out the PAX wardrobe as the hardest item they've ever had to put together without professional help. And how can they not? The flat pack wardrobe comes in huge boxes, because the item itself is 201.2 cm. One of the most common problems Londoners and other residents have is the height of the wardrobe. Sometimes it's just too tall for the room you wanted to put it in. Besides, it has around 150 parts and requires to be assembled by two persons. The time on the box says it would take you about 4 hours to put together, but we all know that's a bit optimistic.
#0 Flat Pack Kitchens
Putting an RTA kitchen together can be a nightmare and not to mention the many errors one could make. Check our guide on flat pack kitchen assembly to learn more.
#Bonus: Liatorp Entertainment System
And you though the PAX wardrobe was hard to put together? Well, if your marriage has somehow survived after assembling the PAX wardrobe, it may face a significant challenge in the face of the Liatorp Entertainment System. It has a wide array of shelves and panels for all your multimedia devices plus, it also must be fastened to the wall. This flat pack piece is so hard to assemble that therapist Ramani Durvasula calls it the Divorcemaker. As a therapist she has seen many couples come and go, the ones who have assembled this monster of a furniture have probably gone faster than most.
Image credit: Giacomo Bettiol / Flickr