Flat-pack kitchens are a type of flat pack furniture manufactured in modular pieces shipped to the customer pre-assembled in optimal packing.
How do you buy, assemble, and makeover a kitchen? How can you integrate and arrange a flat-pack kitchen in a way that allows you flexibility and style?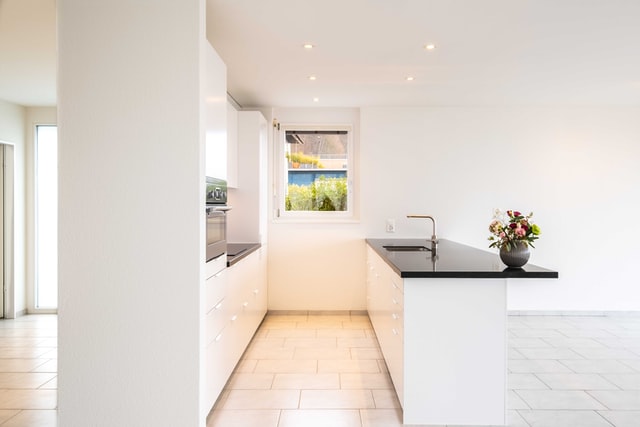 With an assortment of components that you can assemble without a screwdriver, it sounds like an option that does not require customised design. Flat-pack kitchens can fit in any size or configuration. They're easy to put together, inexpensive, and highly customisable.
You can even add features as you need them, without having to set up additional installations. Flat-pack kitchens are just surprisingly versatile and you have plenty of furnishing to choose from.
With years as professional flat pack installers, at Flat Pack Mates we know that knock-down and ready-to-assemble, are stylish, cost-effective kitchens that you can put together quicker and easier than your traditional kitchen set.
Modular kitchens combine all the appliances and furniture with top-of-the-line materials, high-end finishes, and designer lighting options. From high-end fully fitted kitchens to small apartments or urban flats, knock-down units come in convenient kitchen layouts.
Benefits of DIY Flat Pack Assemblage
What are to pros of ready-to-assemble models?
RTA Kitchens are Budget-Friendly
By assembling your own kitchen, you can save up to X amount of funds. When you go through the labour of assembling yourself, you can allocate hundreds on a microwave, toaster oven and other major appliances
If you have the time, and worry of money, purchasing modular units to plan, assemble, and fit by yourself allows control of all aspects of the project thus being more careful with how the budget is spent.
Flexible Time Availability
A DIY flat pack kitchen is the ideal solution for people who are on a regular work schedule.
Or you have the flexibility to fit in with your schedule and work around tradespeople schedules when choosing appliances and doing other tasks such as painting or flooring. A professional kitchen package that combines expert advice with outstanding on-site installation.
Or, you can fit the assembling tasks into your free time, and you won't have the hassle of getting tradespeople around to fit in with your schedule.
Disadvantages of Flat Pack Kitchens
What are the cons of knock-down models?
Assemblage Needs Time
Most people who undertake a DIY kitchen install fail. In the case of flat pack kitchens, the average DIY completion period is about 14 days (from start to finish). It takes more time and expertise to install a DIY kitchen than it does to have a professional do it. It can take a handyman less than one day to install a kitchen. You may even need only a few hours.
The installation process takes longer for an amateur than it does for a pro.
But when you do it yourself, you have to measure each and every square inch of your space to make sure that your cabinets and appliances fit properly and then proceed to fit.
Not as Sturdy & Quality Finish
A lot of DIY kitchen assembly projects are likely to go south because people don't have the mounting skill or handyman carpentry experience to put parts together well, says professional handymen at Handyman Services London. If you're not careful about following flat-pack montage instructions, measure accurately, check levels, and line components precisely, no matter if using the right tools, your flat-pack kitchen may have imperfections, look cheap, and won't stand the test of time.
You can always call for professional flat-pack assemblers like Flat Pack Mates.
Wrong Moves Cost You More
Even though kitchens are not the most complicated to build, it's more than possible to make mistakes as putting a kitchen together is in fact a big project. Flatpack assembly is a complex process that involves many steps and pieces that are hard to assemble yourself.
Even skilled contractors can make an error. Installation of cabinets, drawers, panels, is always tricky, so it's best to have experienced professionals help with planning and preparation. Mitring and attaching components is no child play.
Choosing the right colours, types of tile and accessories takes time, too. Measure twice and cut once. The last thing you want to do is waste time and materials during installation.
We strongly recommend having at least two people working on your kitchen so assembled units don't fall or shift while installed.
Only if you feel confident enough in your DIY abilities, assemble your own flat pack kitchen and save thousands of dollars. While a DIY assembly might sound daunting, it can be fun!
However, DIYers less confident should opt for a professional installation team. Professionals can complete the installation of a kitchen for much less than DIYers with a flat pack kitchen, and they will be able to assemble the cabinets properly to avoid dropping and damaging the finished bathroom.
The process requires skill, confidence, and some basic mechanical aptitude.
Check our guide:
Kitchen Customisation & Design
Modular kitchen systems allow for over 20,000 different combinations of cabinet sizes and drawer configurations, allowing customers to choose the right fit, mix and match their different cabinet sizes, select a door or drawer front to suit the chosen style best.
Ready-to-assemble kitchens offer a selection of furniture with functional and future-proof design for any home with 3D previews and visualisation offer in store.
Longevity of Materials
The type and class of materials for RTA kitchens follow s firm set of standards throughout catalogues and series. Manufacturers use medium-density fiberboard (MDF) instead of solid wood, also melamine, and various types of particleboards, veneer and pressure-laminated covering.
The good part is cost-efficiency and production in scale, while on the other end you have a lack of sturdiness, density, strength, resistance to moisture, along with the quality of hinges, screws, and the likes. When specifying your doors, you want to ask for solid wood (not low-grade particleboard. They'll be sturdier and won't rot away.
Buy & Order Flat Pack Kitchens
Once a flat-pack kitchen's measurements, specs, and layout have been checked, the design configured and the style is chosen, you can order all of the kitchen's components online. You'll receive your kitchen in a few days. You can plan when they arrive at your home so you sync on installation.
Things DIY Can't DO
You'll save a lot of money hiring a professional to install your kitchen. If you're handy with a hammer, know how to use a cordless drill and feel confident operating a jigsaw, give it a try.
Still, there are things that bound you by law to call a licensed technician, such as electrical wiring, gasification, modifying existing pipes and plumbing. That's not a responsibility to fall on the shoulders of amateurs.
Tools for Assembling a Flat Pack Kitchen
Level;
Builder's pencil;
Screwdrivers;
Hammers;
Caulking gun;
Pliers;
Clamps;
Carpenter's square;
Electric assorted drill bits (hole-saw drill bit);
Electronic stud finder;
Framenailer;
Fine saws;
Measuring tape;
Protective glasses;
Drop sheet/masking tape
Silicon sealer;
Ladder.
The Type of Kitchen For You
The right style of kitchen for your project is completely dependent on your vision for the best possible outcome. Flat-pack kitchens are available in a wide variety of styles, designs, colours, arrangements, functionality and price, so you can choose the type and style that best fits your home and needs.
Hire Professional RTA Kitchen Installers
If you decide to outsource your installation, please use a specialist flat pack installer. Make sure that the company is well-established, just like Flat Pack Mates. The so-called knock-down kitchens are complex pieces of furniture, that require advanced knowledge and skills in order to successfully install. Don't settle for compromises in a muddled structure and questionable assemblage.
You'd be mad to hire an inexperienced installer for your new kitchen. Make sure you thoroughly research the people who will be installing your kitchen so you can be sure of a quality job. You should look at their previous work and make sure it's satisfactory.
Planning Flat Pack Kitchens
Before you start with measurements, you should sit down, document, and plan your thoughts for the ideal layout.
Draw up a detailed plan by using professional kitchen design websites to help you visualise what your kitchen could look like in different configurations, colours, and styles. You need accurate dimensions of your windows, doors, power points for power and water.
Define height;
Pinpoint gaps in design;
Maximize details;
Prepare the future kitchen area;
Measure;
Mark everything;
Sketch on paper;
Map on a grid;
Fixate doors, windows;
Highlight additional points (gas, plumbing, electricity);
Worktop areas;
Map appliance installations;
Imagine how and where to store food;
Imagine cooking;
Imagine cleaning;
Draft additional accessories;
Check the floor;
Check walls;
Check right-angled corner spots.
Define The Highest Kitchen Point
Mark the optimal height of the upper corner of your future kitchen. Make markings on the wall and draw a level line down to the base.
Pinpoint Design Gaps
Sometimes it's best to run your DIY plan through a professional interior designer as there are certain rules only experts know. Just as with Feng Shu, minor gaps can cost you hassle down the road.
Maximise
More often than not, the initial plan for a kitchen isn't the optimal solution for space and functionality. That's why expert advice can help you make the most out of the space available.
Prepare The Future Kitchen Area
Before remodelling, you should
Remove any old appliances.
Dismantle your old kitchen.
Take it out.
Clean the area.
Check your walls to make sure they are solid and don't have signs of damage.
Mark where studs lay (if you have them).
Check Your Walls
Walls and floors are rarely even or closely remote to perfect. If you don't know how to observe and measure, then not the guide for you.
Check Floors
Chances are, you don't have perfect level floors. Only experienced experts can cope with uneven angles or straightforward bumps and interior renovation. The common standard for the distance between the ground and your worktop area is about 90cm to a meter. From there on you have anywhere around 60, 65, 70cm. 
Measures & Markings
Try to envision what, how, and where you want to happen. Look for areas where you can maximise functionality per space available.
Make a sketch of your dream layout including where doors and windows sit.
Mark where hinges lay so you avoid conflicts in usage.
Mark points of supply for electricity, gas, and plumbing. At best, stick to where they are at the moment as changing their location is costly.
Mark the placement and volume of cabinets.
Use level and tape measure to avoid permanent markings on the wall.
Map your nits and bolts per location and type.
Corners & Right Angles
Rooms come in all shapes and sizes, corners, support columns, and sills, and nothing is ever perfect. Having an in-depth measurement of irregularities is crucial to the fit installation and kitchen. Measure the difference between different parts throughout their entire surface.
Remove & Refit Worktops
Follow the templates and instructions supplied to outline where you will place sinks, piping holes, electrical wiring, etc.
Ensure that the front edge of the benchtop is perpendicular to cabinets (standard is 55mm.)
Draw the trim line following the curvature of the wall.
Use masking tape to ease tensions from the edge of the blade and thus avoid damaging the nearby surface.
Take out the benchtop and trim to the line using an electric saw, sander, or other technique of choice.
Then refit the worktop. Most modular pieces use special connectors for the work area surface parts. 
Remember to place wall cabinets directly over base units.
Your Range of Appliances
It is crucial that you first select and arrange equipment before the delivery of your flatpack kitchen.
The professional oven cleaner Maggie, you should consider the work area you'd want to use. Would you like a refrigerator on your right or left-hand side? Microwave or multi-cooker? Is coffee part of your life, freshly juiced fruit or both?
Design Left & Right of the Sink
What are your preferences for storing provisions? Spices, cookery, cleaning, all chores that define what kitchen you really need.
Installation – Costs & Frustration
To assemble an entire kitchen from scratch may help with funds but not your nerves, comments Paul Gibbens, a professional national house buyer at professional property acquisition company HouseBuyers4u. The cost of a flat pack kitchen can vary on numerous factors, such as the type, number of modules included, style, finishes, the range of appliances, the specifics of your interior, property, and more.
Before You Fit The Kitchen
You have the plan, but how to actually start an installation? Shut off power, gas, and water. Use a certified professional.
Get all the parts, bits, fittings, and etc. parts out and just familiarise yourself with what you have to work with, what is what, what goes where, and what you need to organise.
Installation:
Drill holes for anchoring;
Start with the corner cabinet;
Proceed to the base and pantry cabinets;
Use all the cover plates;
Cabinet cutouts;
Drawers,s doors, hinges;
Adjustable legs and uneven floors;
When not using wall studs;
Overhead bulkheads;
Run flooring beneath the kitchen;
Kitchen taps & mixers;
Sinks.
Drill Holes for Anchoring
Carry your anchoring markers from the wall to the corresponding flat-pack plane. Oncer parts are put together, align the pre-drilled holes with your wall markers and anchor each piece to the wall.
Start with Corner Cabinets
Pick the dullest corner and star there. Assemble and fit the module to your pre-defined markings. Level, reposition, and tweak until your marked base and wall align.
Often, the outer point of cabinets passes the back panel. In case of uneven dimensions and walls, you can freely position the front so it looks good.
End Cabinets
If done or no corners at all, choose one side and undertake putting together the end module first.
Base & Pantry Cabinets
Build from the ground up. Layout the foundation of all sections. And gradually mount each section.
Kickboards & Drawers
Gradually install storage compartments as fit.
Cutouts & Power Supply
Carefully measure where appliances should fit.
Use All Nits & Bolts
There are always spare parts added to any flat pack piece of furniture, but leaving too many unused is not recommended.
Additional Modifications & Hacks
You or your installer can further cut to modify and hack original designs. A piece that has 500mm can easily get down to 400mm.
Drawers, Doors & Hinges
Centre each piece to position and adjust away from uneven gaps throughout the kitchen.
Adjustable Legs & Bumpy Floors
The goal of adjustable legs is to help you achieve an acceptable level of worktops.
Wall Studs or None?
Depending on whether you use wall studs or fit straight to the wall you will need different fittings, holders, screws and etc. For the best solutions, ask a professional flat pack installer.
The Overhead Bulkheads
MDF or gyprock, overhead bulkheads utilize space that you'd otherwise have filling with dust and sometimes, pests.
Run Flooring Beneath the Kitchen
It's practical and far-sighted. Install flooring throughout the entire room regardless of how and where kitchen units fit. Using beads throughout the edge against the kicker / toe kick is a sealed deal. At best, use silicone to prevent liquids from reaching the surface under your kitchen.
Install the Sink
Use silicone to isolate the edges of both sink and flat pack modules and around fasteners if used. Make sure the sink is in the right position, sturdy, and ready.
Kitchen Taps & Water Mixers
It takes a bit of plumbing know-how to have water flowing right. If you don't have the know-how to install your taps and water mixers, consider help from a professional plumber. Plumbing installations are not part of your general kitchen assembly.
Fit Front Panels
Cabinet doors, drawers, and all final assembly instructions left to finish. The good thing about front panels is that they are easy to customise and tweak. Make sure you tighten hinges and bolts.
Mistakes to Avoid
Keep cooktops and sinks far. You need at least 500mm of space.
Keep the fridge on the other end of stoves and sources of heat.
Keep the space above your cooking area empty.
Design so all doors, be it cabinets or appliances, open without conflict.
Mismanage packaging leftovers and waste.
Longevity & Guarantees
Flat pack kitchens come with great guarantees, but make sure you save your papers in the kitchen. 
Flat Pack Kitchens, Review & Remarks
Flat pack kitchens are a brilliant solution that storms traditional cookery stations on all fronts – cost, efficiency, easy-to-install, and more. However, ready-to-assemble products are no child play. To put together a beautiful, sturdy, and successful kitchen installation takes focus, patience, and a lot of hard work.